Centennial Celebration Booklet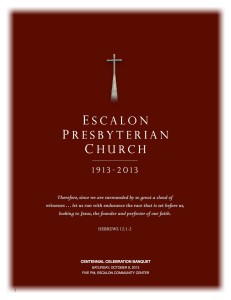 Centennial Worship Bulletin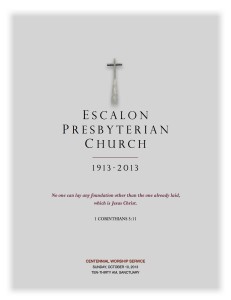 Read More
Dear Members and Friends of Escalon Presbyterian Church:
Sunday, October 20, is our congregation's First Fruits Sunday – a Sunday devoted to Christian stewardship. It is not a fundraising event, or a plea for the church to meet budgetary goals. The importance of this annual stewardship focus is to devote ourselves to the biblical call to give generously and grow spiritually.
The people of God have always gathered together to celebrate the harvest of God's provisions – whatever yield that harvest may be. For there is always a harvest from the Lord, which we should thankfully acknowledge! The biblical principle of First Fruits (Deuteronomy 26) is the call to give the first portion of our harvest to the work of the Lord, the one who alone provides for us – hence, the "first" of the "fruits" that have been gathered. This giving is intended by God for our joy – truly.
In 2 Corinthians, Paul connects the principles of a harvest to the joy of one who freely responds by giving as led by the Lord:
6 Remember this: Whoever sows sparingly will also reap sparingly, and whoever sows generously will also reap generously. 7 Each of you should give what you have decided in your heart to give, not reluctantly or under compulsion, for God loves a cheerful giver. 8 And God is able to bless you abundantly, so that in all things at all times, having all that you need, you will abound in every good work.
First Fruits Sunday at EPC is a day of gratitude to God's grace.  You gather together in worship with other members of your family of faith and personally commit as you are led to give faithfully for the coming year a portion of what you have received from God's harvest.  We hope and pray that you will join us October 20th for our regularly scheduled Sunday morning worship and the First Fruits Celebration Luncheon immediately following worship.
In Christ,
Jerry Hougland, Jeff Hood & Troy Onsager
On behalf of the Finance Team and Session
Read More